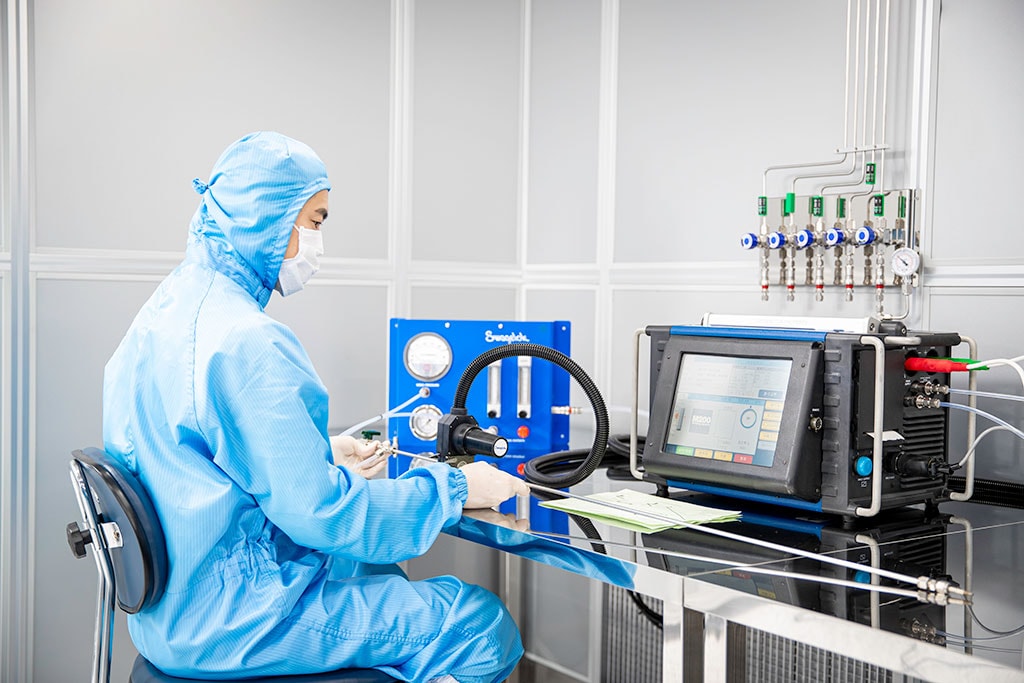 Keep It Clean: Ultrahigh-Purity Manufacturing and Cleanliness Standards
Ali Ladhani, Applications Engineer & Custom Solutions Manager

Choosing the Right Path for Your Critical Applications
Do you work with ultrahigh-purity (UHP) applications where corrosive gases, extreme temperatures, and precision are critical process variables? If so, it is critical that you choose the correct components and follow the proper cleanliness standards and manufacturing processes to meet those stringent requirements.
UHP Components
Bellows-Sealed Valves
It can be challenging to find reliable, leak-tight valves for UHP applications where seal to atmosphere is essential to keep processes functioning as intended. Swagelok® bellows-sealed valves are designed to limit the potential for leaks, with many featuring a packless design or welded seals.
Gauges
Measurement Devices are often required in UHP environments to monitor positive system pressure and vacuum. Swagelok® pressure gauges for ultrahigh-purity and clean dry air feature a Bourdon tube designed to do just that.
Weld, VCR, Micro-Fit Fittings
Fluid system safety and efficiency is of the utmost importance in UHP applications. Swagelok® weld fittings provide the strength and reliability needed for UHP, specially cleaned, and industrial systems.

There is high demand for fast, easy, and reliable maintenance on components in welded systems, as repairs can be costly. Swagelok VCR® metal gasket face seal fittings, which are the preferred fittings in the semiconductor industry for high-purity gas delivery systems, facilitate timely maintenance and leak-tight integrity while minimizing disruption to the facility. VCR stands for vacuum coupling radius and these fittings were invented by Swagelok in 1966.

Limited space is often another constraint of UHP systems. Swagelok® Micro-Fit (Miniature Tube Butt Weld) Fittings possess a compact design, accommodate tubing systems requiring miniaturization, permit close component spacing, and deliver flow and service ratings equal to larger weld fittings.
Take a video tour of Swagelok's Solon, Ohio Main Plant to learn how we adhere to high quality standards while manufacturing millions of fluid system components each year.
Cleanliness Best Practices
What is a Cleanroom and Why Do We Use One?
Some industries or applications require a cleanliness level that cannot be achieved in a typical office or shop environment. To meet this challenge, multiple stages of the manufacturing process must take place in a cleanroom. This ensures that the immediate air and surfaces around the process are highly controlled and airborne particulates, temperature, humidity, and other parameters are all kept within strict tolerances.
Quality, purity, and cleanrooms are essential to semiconductor manufacturing, where even the smallest speck of dust or inconsistency can render a silicon chip useless. In this industry, the cleanroom standard is ISO 5 or better and they typically run 24 hours a day to meet demand, while also controlling static levels, particulate matter, and out-gassing. Production also calls for staff to be outfitted in cleanroom suits to protect them from radioactive process, machinery, chemical exposure, lasers, and magnetic fields. The SC-01 Ultrahigh-Purity Process Specification, referenced later in this post, guides production in this industry.
In every stage of pharmaceutical manufacturing, cleanliness is important to help ensure the products produced for our health are free from contamination and will not pose a risk to us. This includes everything from the manufacturing itself to the production of the packaging material. Drainability is a crucial requirement, as a properly constructed system should drain completely, minimizing residual puddles, reservoirs, or entrapment along process lines and in or around valves or fittings. Cleanroom requirements for pharmaceuticals are enforced by the Food and Drug Administration (FDA), and this industry typically recommends ISO 5 to ISO 8 class cleanrooms to control dust, air pressure, humidity, microorganisms, and even the temperature.
Benefits and Advantages of Cleanrooms
Cleanrooms come into play during high purity assembling and welding, where the number of airborne particles in the surrounding environment needs to be minimized as much as possible. Air filtration is achieved with the use of overhead HEPA filters, and with constant air changes and laminar flow it is possible to reduce the particle count of 500,000 per cubic foot (as found in a typical office setting) to 100 per cubic foot (as found in an ISO 5 cleanroom).
Cleanliness starts in the gowning room, where special suits ensure no contamination is brought inside. In Swagelok Ontario | Atlantic Canada's case, the gowning room is an adjacent but separate room to the actual cleanroom where the fabrication takes place. A sticky mat is placed just before the gowning room to further remove impurities before entering. All surfaces in the cleanroom are wiped clean on a regular basis prior to and during fabrication.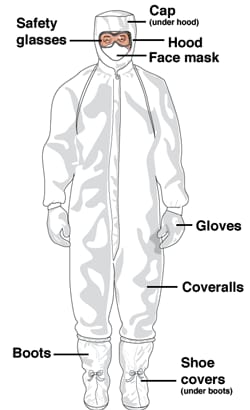 Quantitative measurement inside the cleanroom is achieved with a particle counter. Swagelok Ontario | Atlantic Canada uses a portable particle counter for testing indoor air quality and measures air particles either by volume or over time. The counter can store up to 10,000 readings in its internal memory and can transfer data to a computer for end users to reference.
Example Cleanroom: ISO 5 Certified
The Custom Solutions department of Swagelok Ontario | Atlantic Canada has a fully equipped and fully functioning ISO 5 certified cleanroom that meets the requirements to minimize the number of airborne particles that could potentially contaminate a system during the assembly or welding stage. Details on the tolerances for each classification per ISO 14644-1 is detailed in the table below. The lower the ISO class, the cleaner the room.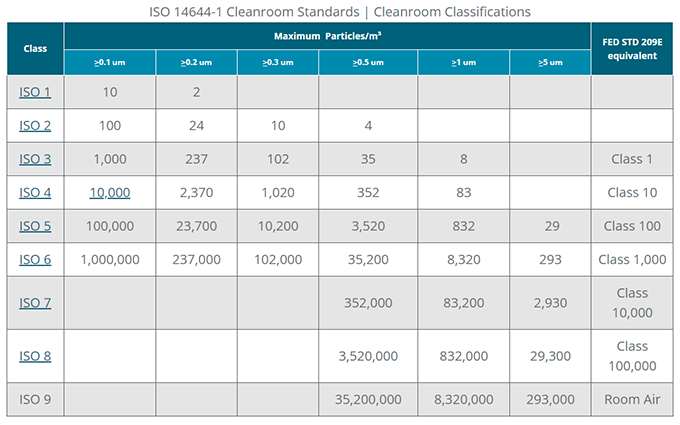 Our ISO 5 cleanroom provides an ideal environment for unpackaging and assembling high purity components. Referred to as a "super clean" cleanroom, the ISO 5 classifications means there must be less than 3,250 particles ≥0.5 micron per cubic meter and 250-300 HEPA filtered air changes per hour. The equivalent FED standard is Class 100 or 100 particles per cubic foot.
After assemblies are completed, helium leak testing, the capping of any open ends, and packaging all take place inside the cleanroom to ensure that the high level of cleanliness during fabrication is carried all the way to the hands of the customer.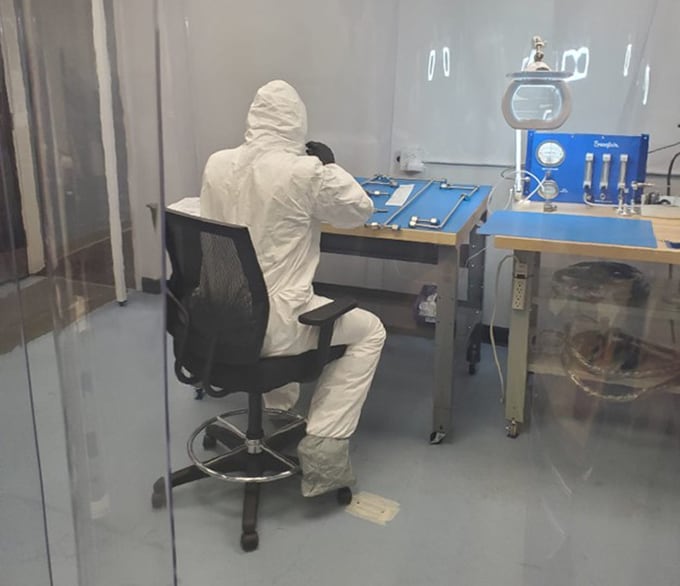 High-Efficiency Particulate Air (HEPA) Filter
HEPA filters, also referred to as a high-efficiency particulate absorbing filters, contain a housing of microporous fibers that capture airborne particles and debris. HEPA filters are rated based on their particle capture efficiency for a specific particle size. By EPA standards, a HEPA filter must remove 99.97% of airborne particles 0.3 micron or larger.
In the ISO 5 cleanroom, Swagelok Ontario | Atlantic Canada uses HEPA filters that can remove particle sizes from the air down to 0.3 microns with 99.99% efficiency.
Welding in a Cleanroom
Manual Tungsten Inert Gas (TIG) welding is avoided in a cleanroom because clouds of vaporizing metal and streams of welding and backing gas are released each time an electrical arc is struck. Additionally, the released heat affects turbulences between inert gas and the surrounding air and entrains undesired pollutants. Fortunately, these side effects can be avoided by using Swagelok closed orbital welding heads. Cleanroom welding is also paired with ultra-high purity tubing and specially cleaned fittings to maintain the cleanliness of not only the environment, but the final product as well.
Helium Leak Testing
The cleanliness level needs to be maintained in every stage of production, and that also includes leak testing of the assembly. When manufacturing in a clean room, we conduct testing in-house using a Mass Spectrometer Leak Detector (MSLD) and UHP (99.999%) helium. There are two ways to perform helium leak testing:
Inboard Helium Leak Test: The MSLD pulls a vacuum on the assembly and a tracer probe is used to spray a small amount of helium at each joint. Helium is drawn into the MSLD which will then indicate a leak rate.
Outboard Helium Leak Test: The assembly is connected to a UHP helium source and can be pressurized up to 1000 psig, or higher upon request. A detector probe is used to "sniff" each joint. Any potential helium leaking from a joint will be drawn into the probe and the MSLD will then indicate a leak rate.
Swagelok Special Cleaning and Packaging
Each component in a high purity system is carefully selected to ensure it will perform as expected. Special cleaning and packaging is essential to maintain the integrity and high performance of these components.
There are various cleanliness specifications to choose from when selecting Swagelok components. These include SC-10, SC-11, and SC-01.
SC-10: Standard Cleaning and Packaging
The SC-10 cleaning standard is Swagelok's General Industry cleanliness standard which defines the cleaning, lubrication, assembly, and packaging requirements for standard Swagelok products and describes the practices used to meet these requirements. Some of the requirements for this specification include:
Cleaning of the components to remove oil, grease, and loose particles
Protection of carbon steel from atmospheric corrosion via plating, a conversion coating, or a light oil film
Finished products are packaged to protect them from contamination and damage during shipping and storage
Standard quantities of products are packed in cardboard boxes with suitable protective material.
Openings may be sealed by caps, plugs, bags, or the box used to protect the product.
SC-11: Special Cleaning and Packaging
The SC-11 cleaning standard ensures compliance with product cleanliness requirements as stated in ASTM G93 Level C which is most commonly used in Oxygen Service. Some of the requirements for this specification include:
All components shall meet the requirements of Swagelok Standard Cleaning and Packaging (SC 10)
Finished products shall be packaged individually in a sealed plastic bag
Bagged products shall be boxed for protection from contamination and damage during shipment and storage
End connections are covered with clean caps and plugs, as needed, to protect threads and other critical surfaces, and to maintain cleanliness.
SC-01: Ultrahigh-Purity Process Specification
The SC-01 cleanliness standard is Swagelok's ultrahigh-purity (UHP) electropolished stainless steel products as well as ultrahigh-purity plastic products which are most commonly used in UHP applications manufactured in a clean room. Some of the requirements for this specification include:
Moisture analysis in accordance with ASTM F1397, "Standard Test Method for Determination of Moisture Contribution by Gas Distribution System Components"
Hydrocarbon analysis in accordance with ASTM F1398, "Standard Test Method for Determination of Total Hydrocarbon Contribution by Gas Distribution System Components"
Ionic cleanliness in accordance with ASTM F1374, "Standard Test Method for the Determination of Ionic/Organic Extractables of Internal Surfaces—IC/GC/FTIR for Gas Distribution Systems Components"
Packaging and identification procedures meet the requirements of: SEMI E49.6, "Guide for Subsystem Assembly and Testing Procedures—Stainless Steel Systems" for stainless products
Download The SC-01 Specification
Field Engineering: Global Reach. Local Support. Knowledgeable Resources.
Our team of local Swagelok field engineers is committed to providing the right resource for the right solution at the right time to help our customers succeed. Leveraging deep industry experience and knowledge from around the world, our technical experts are here to help you select the proper components, cleanliness level, and cleanroom class for your application. All you have to do is reach out!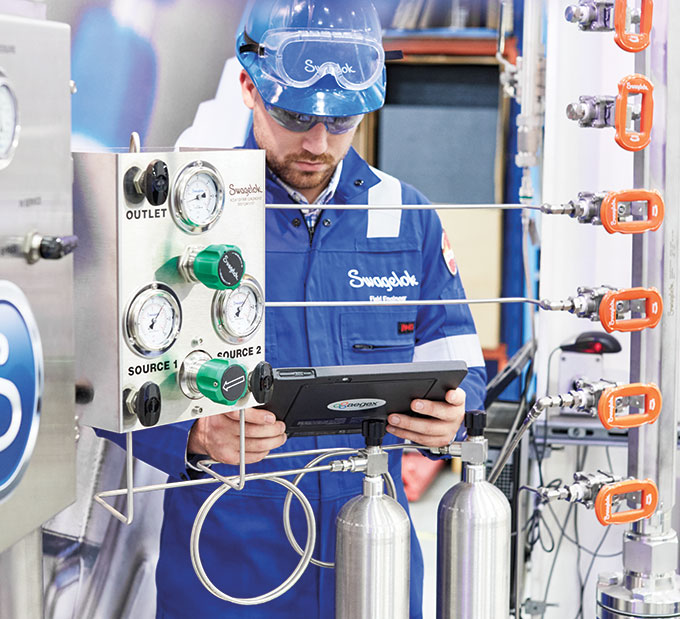 subscribe to the swage talks blog