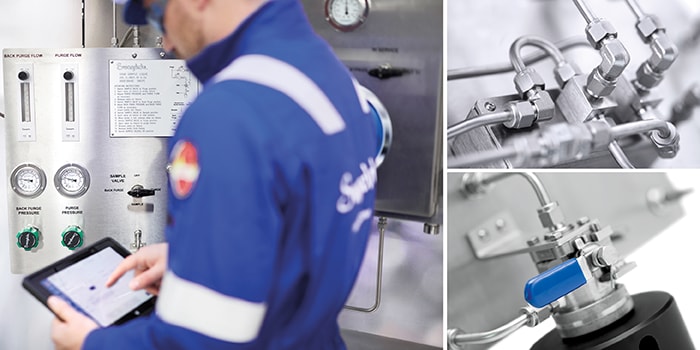 Grab Sampling Systems: Evaluation & Solutions
Grab Sampling, also known as closed-loop sampling, is one of the most common and cost-effective forms of process sampling. It involves collecting a process sample in an appropriate container before transporting it to an on-site laboratory for chemical analysis.
Sampling reliability optimizes your costs and ensures the quality of your process outputs. This makes grab sampling system selection and sample collection an essential part of your operations.
However, finding the right system requires careful analysis of a variety of factors such as chemical composition, sample pressure, temperature, phase, and compatibility. Our fluid system experts are here to help.
We can provide a detailed analysis of your systems and sampling practices or simply help you select safe, easy-to-use grab sampling systems built to your specifications.
Contact Our Fluid System Experts
Grab Sampling Evaluation
Capturing safe and accurate samples from process lines can be surprisingly complicated. We can help with advice on various methods to optimize your sample capture. Our team of trained advisors understands common sampling challenges and can visit your facilities in-person or virtually to identify issues affecting sample quality and opportunities for enhancing system performance.
After each evaluation, we provide a detailed report focused on four considerations for optimal grab sampling system design:
Quality of the sample
Safety of the operators taking the sample
Environmental emissions, caused by a leaking system or improper venting
Functionality or ease-of-use
Without proper grab sampling system design and maintenance, critical actions like capturing, handling, or analyzing samples can be difficult to achieve.
WORK WITH OUR EXPERTS TO OPTIMIZE YOUR GRAB SAMPLING PROCESS
Grab Sampling Solutions
Swagelok Ontario | Atlantic Canada offers fully configurable, locally built and supported, and reliable grab sampling assemblies in a variety of configurations with advanced features intended to help you safely capture representative samples of liquid or gas from your process lines.

Determining the type of container is the first step in specifying a grab sampling system, the table below illustrates what type of container can be used for the liquid or vapor phase.


To achieve a complete understanding of your system, we recommend working with our team to evaluate current conditions and optimize your grab sampling with Swagelok's pre-designed Grab Sampling Panels (GSPs).
We offer two types of grab sampling systems that provide gas and liquid non-slurry sampling service in consistent, reliable packages. Grab sampling panels assembled by Swagelok technicians can be ordered as a single part number, allowing you to easily purchase sampling solutions that are easy to install, operate, and maintain and that are optimized to perform well in your operations.
The Swagelok® grab sample module (GSM) is a sampling panel that uses sealed, metal, pressure-containing cylinders to capture either liquid or gas.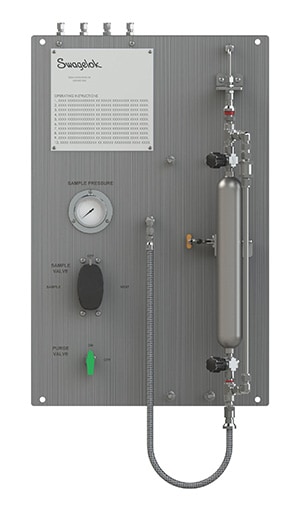 This closed-loop system uses differential pressure to drive fluid from the sampler to the process or flare. The GSM can be left in the bypass or sample position indefinitely, keeping transport lines fresh and ready for sample capture.

A grab sampling cylinder (GSC) is docked, and process fluid is continuously circulated within to maintain process conditions. A GSC—available in various configurations—is required for every GSM system and should be ordered separately when purchasing a new GSM.
GSM panels feature a switching valve configuration with two or three Swagelok® 40G series ball valves allowing for simultaneous control of fluid routing These configurations reduce the number of sequencing steps required and give a clear indication of sequencing, reducing the likelihood of errors.
| | |
| --- | --- |
| 2-Valve Switching Valve | 3-Valve Switching Valve |
| | |
| | |

The Swagelok® grab sample liquid (GSL) is a liquid-only sampling system for drawing fluid into a non-pressure-containing bottle with a self-sealing septum cap in applications where the process fluid is not at risk of fractionating when stored at atmospheric pressure.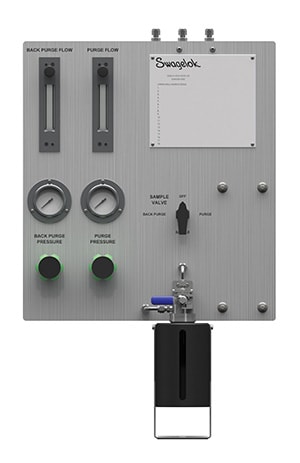 The GSL can use lower-cost glass or polyethylene laboratory bottles to draw and store samples. Using bottles provides immediate feedback on the visual quality of the sample stream.

Samples can be drawn and transported without the risk of spillage or evaporation. A spring-return handle on the sample-drawing mechanism prevents unintentional dispensing.
Fixed-volume Swagelok GSL systems use the same switching valve as a GSM system to provide simplified operation for complex tasks